Skip to Content

HISTORIC HOTEL IN WINSTON-SALEM, NC
A Most Memorable Stay
An enchanting historic property with all the modern amenities, Graylyn features 85 well-appointed and uniquely decorated guest rooms attractively situated throughout the pristine 55-acre estate. With several exclusive buildings and diverse accommodations, daily refreshments with historical importance, an outdoor pool, a fitness center, guest bicycles, walking paths, and more, Graylyn creates an unforgettable experience for your guests.
The Romantic Getaway Package
Indulge in the romance of one of North Carolina's most celebrated estates. Perfect for a proposal, wedding night, anniversary (or just a much-needed romantic getaway), this package includes a keepsake print of the estate.
The Manor House
The Manor House is home to a collection of 34 exquisite guest rooms and suites, including 13 antique guest rooms with original architectural details.
The Mews
With 35 guest rooms and suites and its own unique and private spaces for meetings, dining, and casual get-togethers, The Mews is an unsurpassed setting for conferences.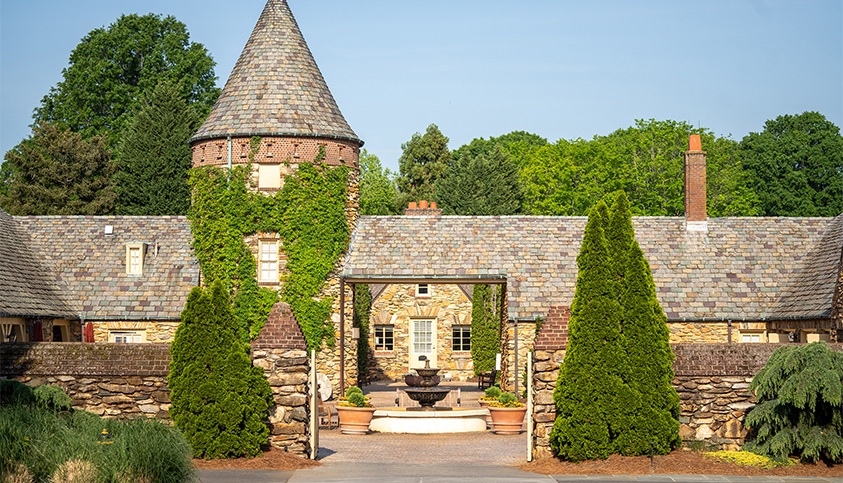 Bernard Cottage
The Gray family residence while the Manor House was under construction, Bernard Cottage is a quaint and secluded retreat with nine guest rooms and suite
Gardener's Cottage
Located near the Mews, this cozy cottage was once the home of the estate gardener. Quaint, distinctive and private, it has four beautifully furnished guest rooms.
Bungalows
Comprising a trio of unique guest rooms, the Bungalows offer unmatched privacy in the heart of the estate grounds.
Accessible Amenities
Valet parking
Accessible entranceway and public space

Accessible rooms and restrooms

Roll-in showers
Accessible dining space
Accessible exercise facility
ADA Hotel Compliance Kits to include: Krown Standard TDD, Visual Door Knock Signaler, Telephone Amplifier, Visual Telephone Ring Signaler, Large Display and USB Alarm Clock with Bed Shaker
Customized menus for food allergy accommodations
Pet policies and fees do not apply to service animals
If you have questions or special requests, please call reservations at (800) 472-9596 or send us an email at reservations@graylyn.com. We are happy to serve you to the best of our ability.